Marketers want to be storytellers.
For a lot of good reasons. Stories sell. They always have and it's likely they always will.
As a marketer, to be a great storyteller takes a deep understanding of storytelling. Then, a plan of how you can adapt the storytelling process to be used in marketing.
That's why we've put together this guide about storytelling in marketing. By reading this, you'll walk away with a step-by-step process to use storytelling in your marketing. And, we'll leave you with a few examples for inspiration.
Read on to understand how to craft a great marketing story.
What is storytelling?
Storytelling is the act of telling stories. It's the process of engaging with an audience to paint a picture with words.
Telling a story is creating a narrative to help your audience understand a particular message. This can be fact, fiction, or a mix of both.
Stories communicate a message in a way that your audience can understand. The point of storytelling is to motivate change.
As marketers, our primary purpose is to motivate change and create action. Stories become an excellent vehicle to do this.
How to craft a great story in marketing
Using stories in your marketing can improve the effectiveness of your marketing campaigns. It can increase sales. And, it helps your overall brand.
To craft a great story for your next marketing campaign, it is all about using a standard storytelling structure.
All stories have a structure and contain three elements. The elements of all stories are:
Character
Problem and/or conflict
Resolution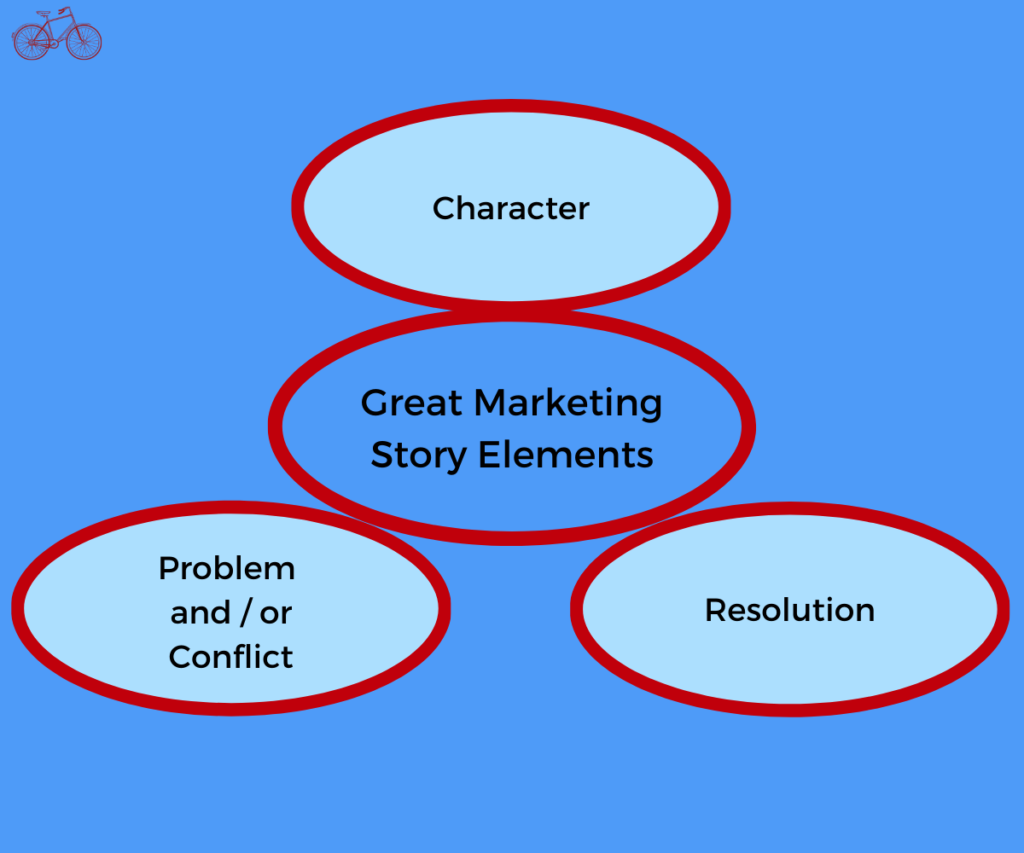 It's easy to think of this in terms of the story in a book or movie. A bit more difficult to turn this into a format for a marketing campaign. But, we've put together a six-step process for formatting your marketing storytelling into this structure.
To craft a great marketing story, follow these six steps.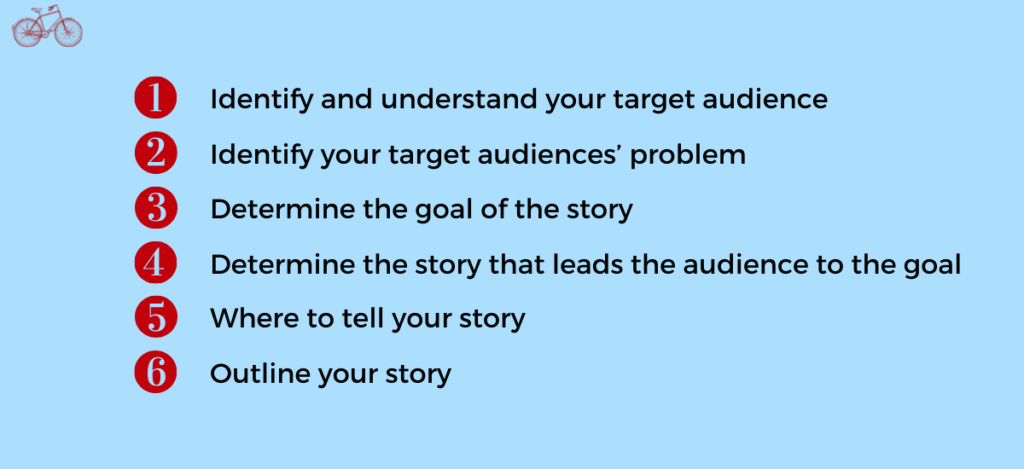 Step 1: Identify and understand your target audience
The first step is to identify your target audience. Then, ensure you deeply understand them. This is going to be the foundation for your character.
Your target audience is the character in your story.
You can define this as a buyer persona, or a different type of customer segment. But, do it in such a way you can craft a character around them.
Step 2: Identify your target audiences' problem
To get a conflict or problem, you are going to take a problem that your target audience has. Likely, this problem is something that your product is already solving. Thus, you might already have a good handle on this.
If not, make sure that you identify the problem. This is going to be the basis for the problem or conflict you present in your story. Which, will allow you to bring them to a resolution.
That resolution will be your product.
Step 3: Determine the goal of the story
The third step is to identify the goal of your story. The goal is the action you want your audience to take. This is the step where you determine the resolution of the story. And with that resolution, you craft your call-to-action (CTA).
The story needs to be organized. To be organized, the steps from problem to CTA should be logical and make sense to your audience.
Step 4: Determine the story that leads the audience to the goal
Since you have the key elements of the story, now you want to determine the actual contents of that story.
What is going to make the story resonate with your audience?
The foundation of this is going to lie in how your audience views the world and the problem you are looking to address.
Then, you can determine how you want to present that story to your audience.
Step 5: Where to tell your story
Once you have the story you want to tell, you want to think about where you're going to tell it. This will determine the structure and format of the story.
These are the marketing channels you are looking to distribute the story on. These will be channels like:
Email
Social media
Video
Paid advertisements
The story itself and the goal should determine where it is best suited. The right context will make it easier for the audience to naturally engage with the story.
Step 6: Outline your story
The last step is to outline all the steps above into the traditional story format. The format will be:
Beginning: Background and an intro to the problem
Middle: Showing the path to your resolution
End: Presentation of the benefits to the audience
CTA: Prompting the audience with a call-to-action
This should allow you to present an organized story that your audience can easily follow your path to the conclusion.
With this six-step process for crafting a marketing story, you should be able to consistently craft effective stories. Stories that engage your audience and motivate the change you want to see.
Examples of storytelling in marketing
You're now armed with everything you need to start outlining a story for your next marketing campaign. For some inspiration, let's take a look at a few companies who have some great storytelling examples.
We'll have a business to consumer (B2C) and two business to business (B2B) examples. It's typically much easier to incorporate storytelling in B2C marketing. Which is why we want to provide two B2B examples to show how this can also be done effectively in B2B marketing.
Here are three examples of storytelling in marketing to help spark some inspiration.
Blue Bottle Coffee
Blue Bottle Coffee is a boutique coffee roaster from Oakland, CA. They have great coffee with their specialty being pour over. With their humble beginnings, selling their beans at a farmer's market in Berkeley, they quickly developed a following.
The following gravitated to their story.
The story
The story that Blue Bottle Coffee told is the "third wave" of coffee. The third wave of coffee comes from this being the third big coffee wave in America.
The first wave of coffee was Folgers. Folgers put coffee in the homes of America.
The second wave of coffee was Starbucks. Starbucks taught America how to drink coffee.
The third wave is Blue Bottle Coffee. Where beans are roasted perfectly. They are purchased through fair trade and we know their origin.
For the millennial coffee drinker, this is a story that resonates.
While Blue Bottle Coffee is now owned by Nestlé, this is the story they told that got them started.
And it worked.
Segment
Segment is a technical product and marketing tool. It allows you to build events in your product and website and connect that to the marketing tools you use.
They call themselves a customer data platform (CDP).
Recently, they've launched a campaign called "CRM is not enough".
The story
The story, "CRM is not enough", is directed at marketers. It particularly resonates with growth marketers, demand generation marketers, and marketing operations functions. It hits on the problem that is arising around the complexity of the marketing tech stack.
The need to coordinate customer data across tools and channels is becoming increasingly difficult. For two reasons.
There are more tools and channels popping up daily
Maintaining customer privacy
A traditional customer relationship management (CRM) tool is no longer enough to manage this. So, Segment joined the campaign and the story is perfect for the problem that is arising.
They have done this with a fairly technical B2B product. As far as a story goes, they have hit all the points we've discussed above.
HubSpot
HubSpot is an all-in-one marketing platform. Over the course of their existence, they have continued to grow and continued to improve their product. Throughout their development as a company, they've told many stories.
A recent story, which was told through a specific marketing campaign, is "The Customer Code".
The story
The Customer Code began as an email series written by co-founder Dharmesh Shah. It detailed how HubSpot was going to get back to its roots of being hyper-focused on the customer.
It outlined principles, beliefs, and a strategy for increasing customer focus. This story hits a lot of points of how the HubSpot target audience thinks. Which, is marketers.
As a B2B product, HubSpot has shown you can be a creative storyteller with the best of them.
Stories sell. They always have. Knowing this, it's wise to find ways to incorporate storytelling in your marketing. With the information and steps laid out here, you should have the foundation to tell better stories.
With your stories, it's likely your audience will be more engaged and become better customers.