Getting your products in front of your target audience may not be easy. There can be market access barriers. Large geographic areas. Or, long and complicated sales cycles.
This is why many companies will work through distributors, retailers, or various other distribution channels. When a company does this, they will begin to employ channel marketing.
Channel marketing provides a way to move products through various channels and coordinate messaging and sales targets among different channel partners. Here, we discuss an overview of channel marketing.
What is Channel Marketing?
Channel marketing is the promotion – as a component of the marketing mix – efforts that are directed at the place marketing mix component. It is directing these promotion efforts at the various distribution levels an organization uses to get their products to the end consumer.
Channel marketing requires that a manufacturer has promotional efforts directed at its channel partners. Which, these are going to differ with the promotional efforts they direct at the end user.
Thus, channel marketing is a secondary marketing strategy to the overall end user marketing strategy. When using channel partners, a company needs a marketing strategy and a channel marketing strategy. Both of which need to work together.
Another point to note here, is that channel marketing is more often a strategy for large firms.
As we continue, everything discussed will be focused on the channel strategy.
What is a Marketing Channel?
Before we get into channel strategy, let's first clarify what we are considering a marketing channel.
A marketing channel is a distribution channel. It is all the things we know of in the place component of the marketing mix. A channel is a retailer, wholesaler, or a distributor. In channel marketing, it is how we find these partners and how we market with them in the mix, and ultimately manage them.
Thus, a marketing channel for building a channel strategy are all the partners we use to get our products and services to the end user.
What is Channel Strategy?
As you build out your marketing plan, you ultimately have to decide whether you need marketing channels or not. If you end up needing marketing channels, you will need to build out a channel marketing strategy.
A channel strategy is how you move your products to the end user through various distribution partners. A lot of this depends on how your distribution network is setup. This could be zero-level, one-level, two-level, or three-level distribution. The strategy is which you decide to use, then how you use them.
With channel marketing, you have to market and have a channel strategy with each of these levels to better move your products to the end user. Ultimately, this is your channel strategy.
Channel strategy is how you make up the distribution of your products. Then, how you market within each of those channels to efficiently move your products to the end user.
Components of Channel Marketing
Now that we understand what marketing channels we are addressing and what a channel strategy is, we can now look at the various components of channel marketing. The components help determine what needs to go into your channel marketing execution.
There are a number of areas to consider. The following are some key components of channel marketing.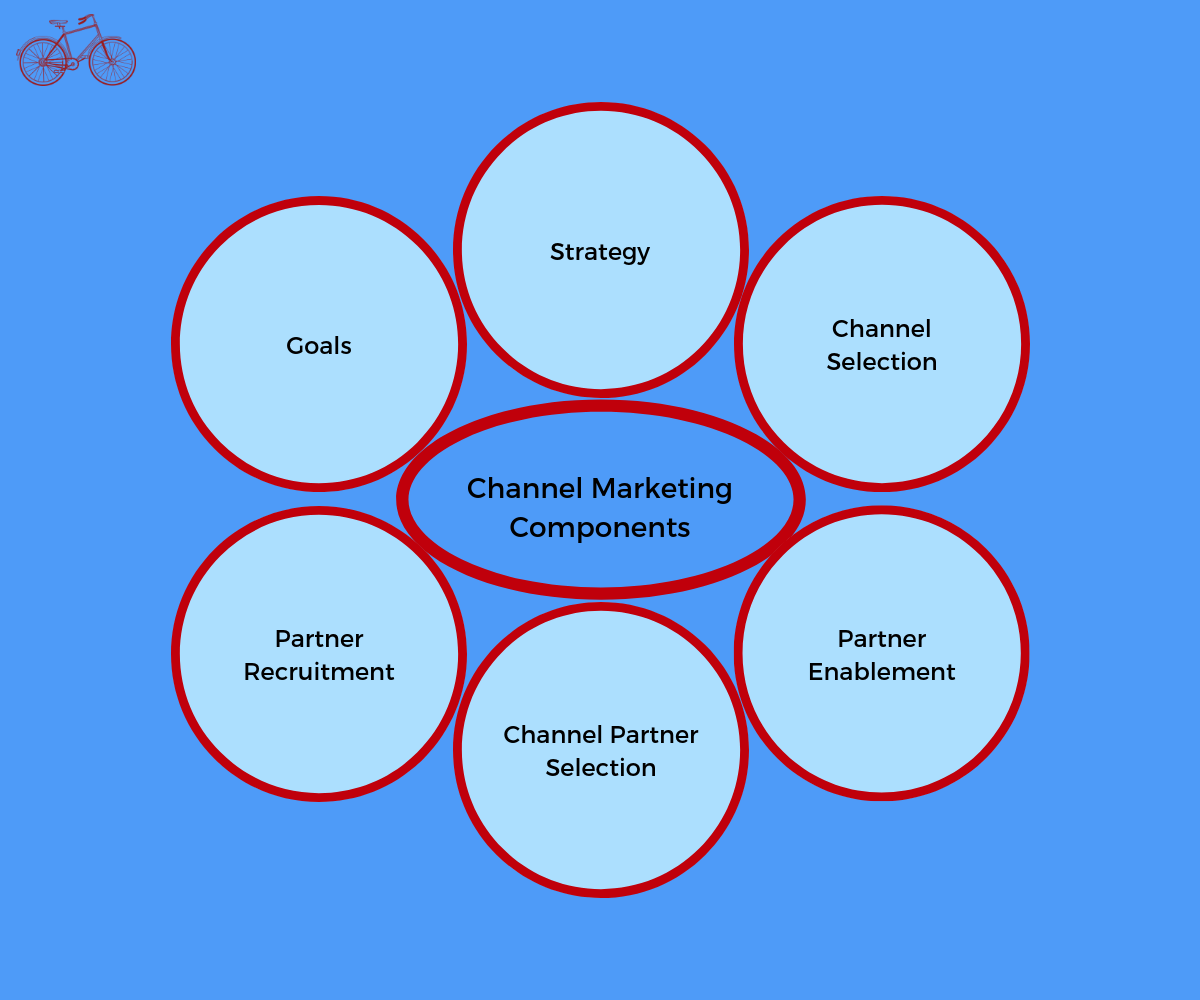 Goals
The first key component in channel marketing is to establish your goals. This may sound obvious, but you need to understand what you are trying to accomplish with your overall marketing strategy. Only then, will you know if you need channel distribution.
Once you determine channel distribution is right for your overall strategy, you can determine your channel marketing goals. Establishing both of these goals, you can then move to the next component of channel marketing.
Strategy
The next component of channel marketing is the strategy you determine. Strategy is all about whether you decide to go one-level, two-level, or three level distribution. If you go zero-level, you don't need a channel strategy, as this would be your marketing strategy.
Of these three, you can then lay out the individual strategy for your chosen channel structure. Which, begins the next components of building out your channel distribution network.
Channel Selection
The next component, once you have determined your channel strategy, is to select your individual channels. If you have determined you need two-levels of distribution, you can now decide if you need wholesalers, distributors, and/or retailers.
Ultimately, the channel selection stage is selecting the exact channels that you are going to use in your channel marketing strategy.
Partner Recruitment
Partner recruitment is a key component of any channel marketing strategy. It is about finding the right channel partners for your business for long term success. This requires an effective recruitment process.
Now, it does not need to be formal, like hiring a recruiting firm. But, you should know what you are looking for and create a pipeline of potential partners. Then, you can select the channel partner that is the right fit.
Channel Partner Selection
A key component of channel marketing is finding the correct channel partner. The selected partner can determine your success. Or, could be a contributing factor for lack of sales. Thus, the right partner is a big decision.
If you have specific goals, a strategy, and you have been recruiting channel partners based on your requirements, you should be able to make a good selection.
Partner enablement
The final component of channel marketing is where we ensure our channel partners are successful. This is partner enablement. This is where our overall marketing strategy has to support the channel marketing strategy. Then, the channel marketing strategy provides our partners with the direct support they need.
Better partner enablement is how we help move our products efficiently to the end user.
What is a Channel Partner?
Now that we have discussed channel marketing components, and channel partners are a focal point, it makes sense to understand a channel partner.
A channel partner is the company that teams up with a producer to facilitate selling products to the end user. This also includes the supporting partners within a supply chain. While a retailer is a partner that sells directly to the end user, as distributor is also a partner. The distributor is a facilitating partner in selling products to the end user.
Channel partners are all the companies and agents that a producer uses to move their products to end users. Which is why, as we saw above, finding the right partners is such a crucial area of channel marketing.
What is a Channel Partner Agreement?
Another key area to channel marketing is agreements between the manufacturer and channel partners. These are the channel partner agreements. This will lay out who is responsible for what.
A channel partner agreement are the terms and conditions that a manufacturer and channel partner agree to. It will specify what marketing, operational, and business support the manufacturer is to provide. While, it will specify the purchase minimums, sales prices, and sales revenue requirements of the channel partner.
This agreement sets the expectations of the partnership and it's a key piece of channel marketing.
Value of Channel Partners
As we go through our overview of channel marketing, we should ask the question: why channel partners?
There a number of reasons to use channel partners for moving products to the end user. Here, we go through four common benefits of using channel partners.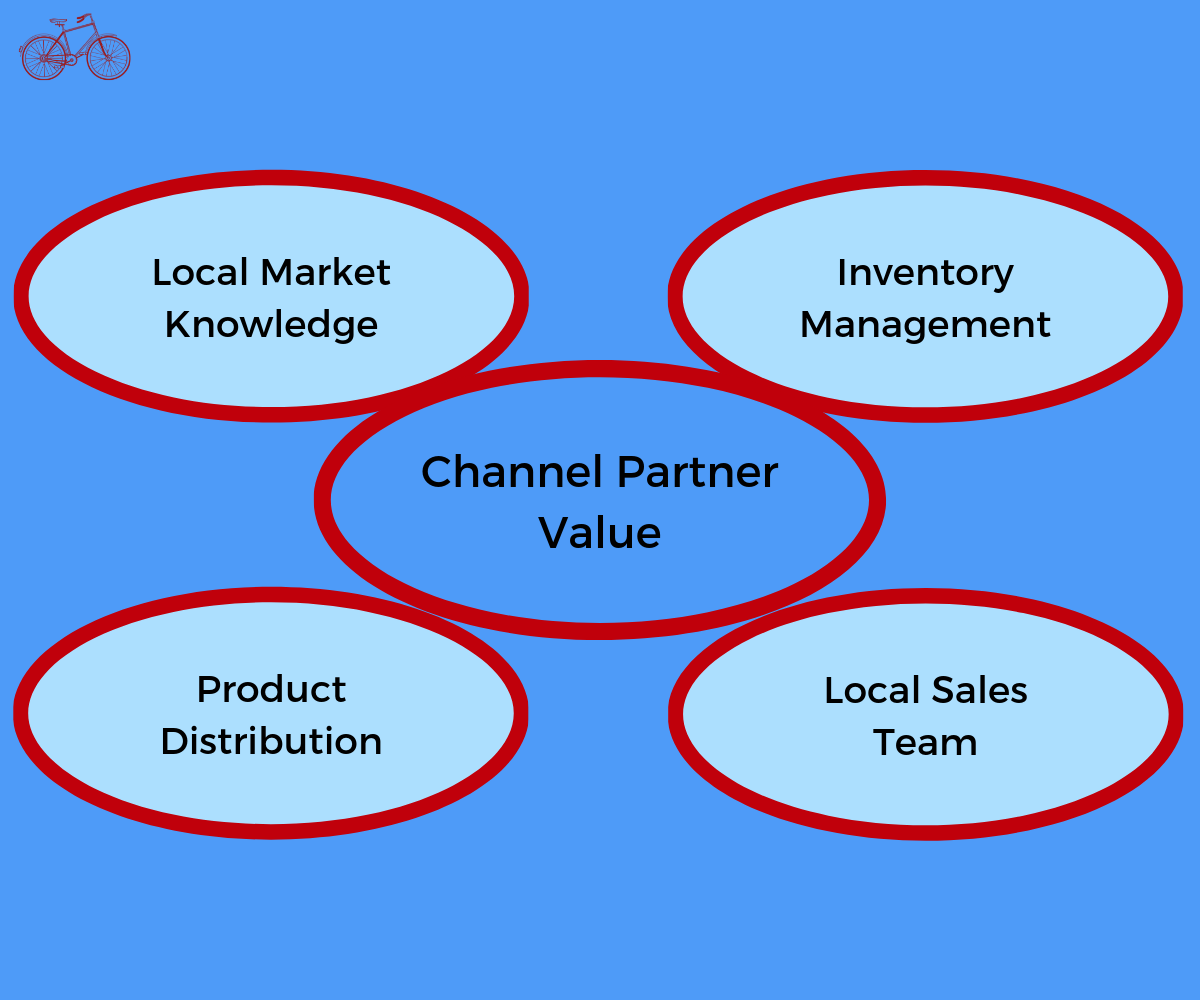 Local Market Knowledge
One value a channel partner brings is local market knowledge. If your product is distributed across a large country like the United States, local knowledge in various regions and states is key.
Also, if you sell internationally, this is a critical value channel partners bring. This not only deals with cultural differences. It will bring language barriers, logistics issues, and local governance. All of which need a trained and knowledgeable partner in the local market.
Inventory Management
Inventory can be costly. It isn't necessarily in the manufacturer's skill set, nor interest, to properly manage the necessary inventory for end user demand. This is typically a key skill of a retailer and a wholesaler. Which, both have sophisticated ways to manage inventory and absorb the cost of inventory.
Thus, inventory management is a key value channel partners bring to the business relationship.
Product Distribution
A key reason for channel partners is distribution. Distributors are some of the most common channel partners. They have clients they can already sell your product to. They typically have access, which can be retailers or end users.
Assisting manufacturers with product distribution is a key value channel partners bring.
Local Sales Team
Building out a sales organization is difficult and costly. Channel partners can become that local sales team. Typically, in the form of distributors. Retailers can also have a sales force within a location. You can use various forms of partners to create a local sales force.
Channel partners can become the local sales force your organization needs.
Sales and Marketing Alignment
With channel marketing comes increased difficulty to sync various teams. This is why aligning your marketing and your sales teams is crucial. Not only sales and marketing, but aligning your marketing with the objectives of your channel partners is as important.
Not only do you want to facilitate moving your product to end users. But the messaging has to assist your channel partners to make their goals. This means there needs to be an understanding that the customer has many touchpoints. And, the messaging, marketing, and sales will have to reflect this. Communication between teams is the foundation.
Channel marketing can be an effective strategy to get your products to end users. There are many advantages. From reach, inventory management, to market access, there are clear benefits. If selling through various channels is applicable, then channel marketing becomes necessary.
Take this overview to begin determining if channel marketing is right for your business.