The internet is a channel marketers love.
Why?
Distribution is easy. And, we have more prospects and customers spending more time online than ever before.
Combine ease of distribution and needing to be where our target market is, and we have a love of the internet.
Using the internet, and other digital mediums, is how we get to digital marketing. Here, we are going to discuss an overview of digital marketing.
What is Digital Marketing?
Digital marketing is the concept we use to encompass the execution of the marketing mix through digital mediums. This can include all components of the marketing mix, or just a few.
Digital marketing can use the internet, mobile devices, and any other digital medium. It uses these mediums to then leverage the tactical channels on each medium. Like, using Google for SEO on the internet.
Digital marketing is a wide-ranging concept but gains more importance as more people spend more of their time in on digital mediums.
Components of Digital Marketing
Digital marketing is broad. There are many components, strategies, and tactics. Each area has a different goal, different effectiveness, and is suited for different businesses. So, it makes sense to take a look the key components.
Understanding the components lets us determine what components might be right for our business. Also, it shows us what marketing ingredients we have to work with. So, let us take a look at what makes up digital marketing.
The following are some of the digital marketing components.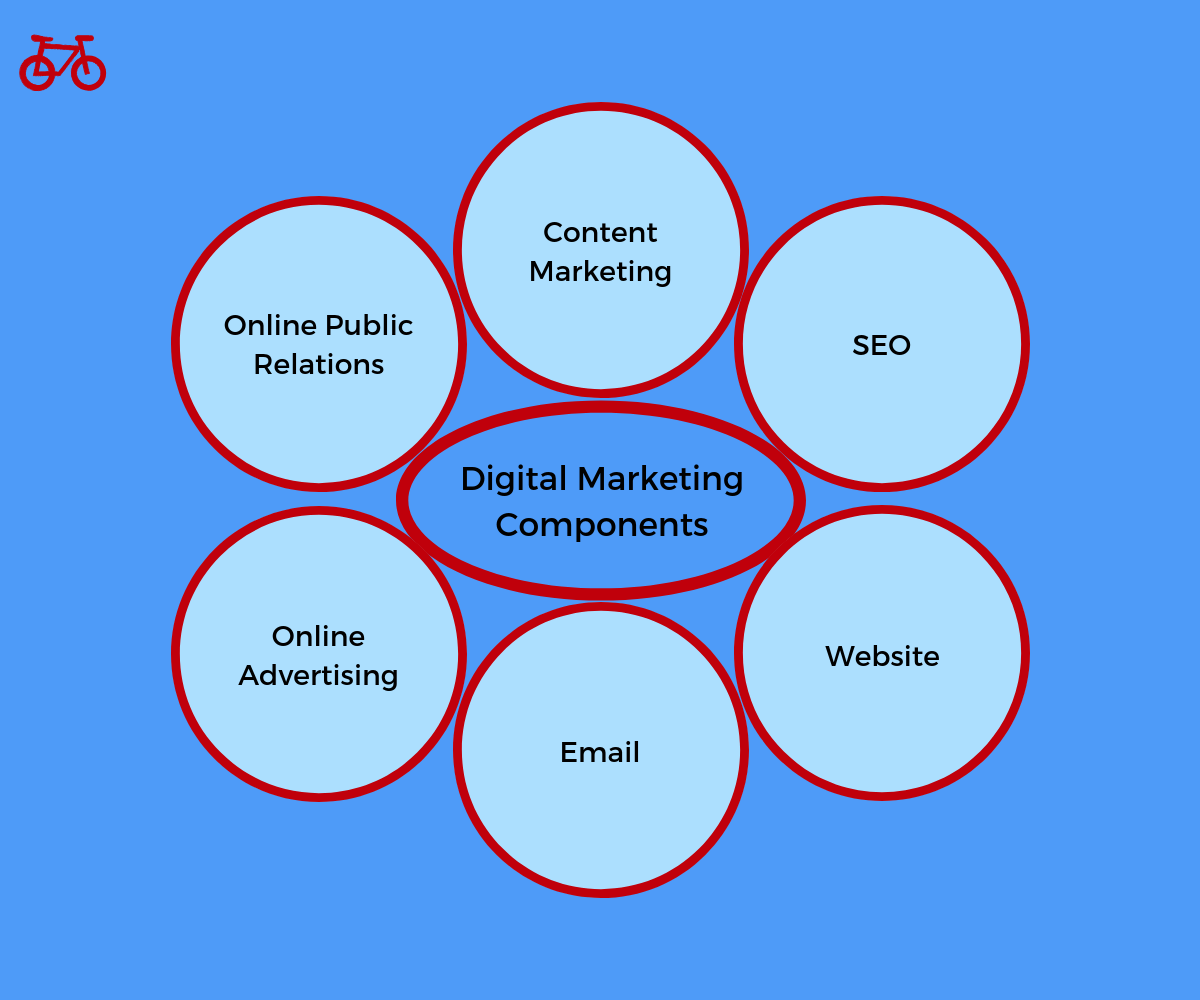 Online Public Relations
Public relations (PR) is one of the components of promotion in the marketing mix. There is traditional PR, and then there is online PR. Online PR is taking the old media form of PR and executing it through digital mediums.
PR in the context of digital marketing includes being featured in an online publication. It can be a contributing author at a digital magazine or blog. Or, it could be guest posting on blogs and other websites.
All of these are examples of PR. And using them in your digital marketing strategy can have effects across all areas of the business.
Content Marketing
Content marketing is a key component of digital marketing, as content is a key driver of online traffic. Which, generating internet traffic is a key component. Content marketing is not just about generating awareness traffic. Content is also a key driver in converting prospects to customers. And, content can help retain the customers we have.
A website, blog, help center, email, and social media can all be used to distribute content. And, they can all natively host our content. Where we want to distribute our content plays a key role in the type of content we create. The medium also dictates how we structure our content.
Content marketing falls within the digital marketing silo due to the fact that marketers primarily use digital mediums to execute their content marketing.
SEO
Search engine optimization (SEO) is fundamental to our digital marketing strategy. This is the process where we work to gain more qualified organic traffic through search engines. This becomes the foundation of our content marketing.
Through keywords, technical implementation, and creating content that generates search engine impressions, SEO can contribute a lot to the top of our funnel.
Online Advertising
Online advertising is one of the digital marketing awareness strategies we have at our disposal. Making our target market aware of us, even if they are not searching in our niche and coming across our channels.
With online advertising, we can run ads across social media networks, display networks, search engines, retargeting, and partner websites. These can either be a pay-per-click (PPC) model, pay-per-impressions (CPM), or even cost-per-acquisition (CPA) model.
Online advertising is an important ingredient in our digital marketing strategy.
Email
Email is one of the oldest mediums. And, although, open and click rates continue to drop, it is still one of the most cost effective digital marketing mediums.
Companies own the channel and once an email list is built, more messages can be pushed at no additional cost. Thus, making it an important channel, even if the effectiveness is not what it once was.
Website
A website is the backbone of our online presence. Thus, it is the backbone of our digital marketing strategy.
Our website is where we host our content for our content marketing strategy, it provides the foundation for our SEO strategy, and it is where we direct our online advertising traffic. Then, we use our website to convert all of our traffic to contacts, prospects, and customers.
Our website is our online location where we provide all the information people may need about us.
Understanding the components above and using them are how we make up our digital marketing strategy.
B2C Digital Marketing
More people spend more time online. This continues to grow. More business is being done online as well. Consumers are comfortable purchasing online, they enjoy purchasing online, and this can be seen in the rise of eCommerce. But, traditionally offline brands can also use digital mediums to drive offline traffic.
That brings us to business to consumer (B2C) digital marketing. Used for both eCommerce and brick and mortar. Digital mediums can be used for every stage of the buyer's journey.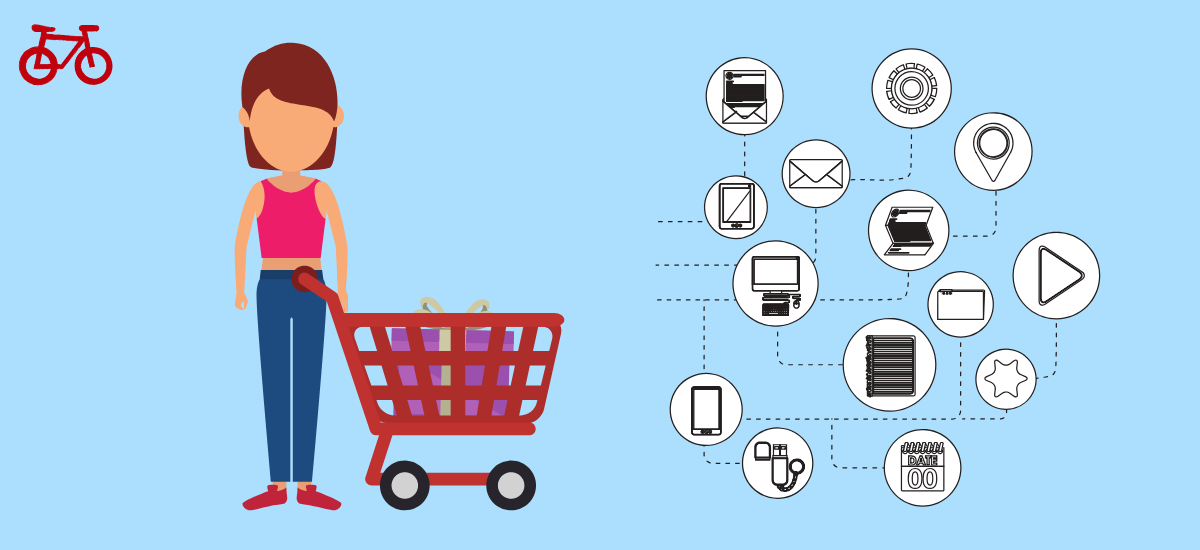 From creating content to online advertising, consumer brands can leverage digital marketing for awareness generation. Top of mind marketing strategies. Or, converting consumers to purchase.
B2B Digital Marketing
Business to business (B2B) brands have traditionally relied on sales to generate a large part of the business. Marketing in B2B has historically struggled to show an ROI, has trouble generating qualified leads, which both lead to the common sales and marketing divide.
But, as more B2B buyers spend time online, and digital marketing tools improve, this is rapidly changing. Marketing is able to generate better leads, as they can better qualify them through digital mediums. And, digital tools are providing better tracking and attribution models for marketers.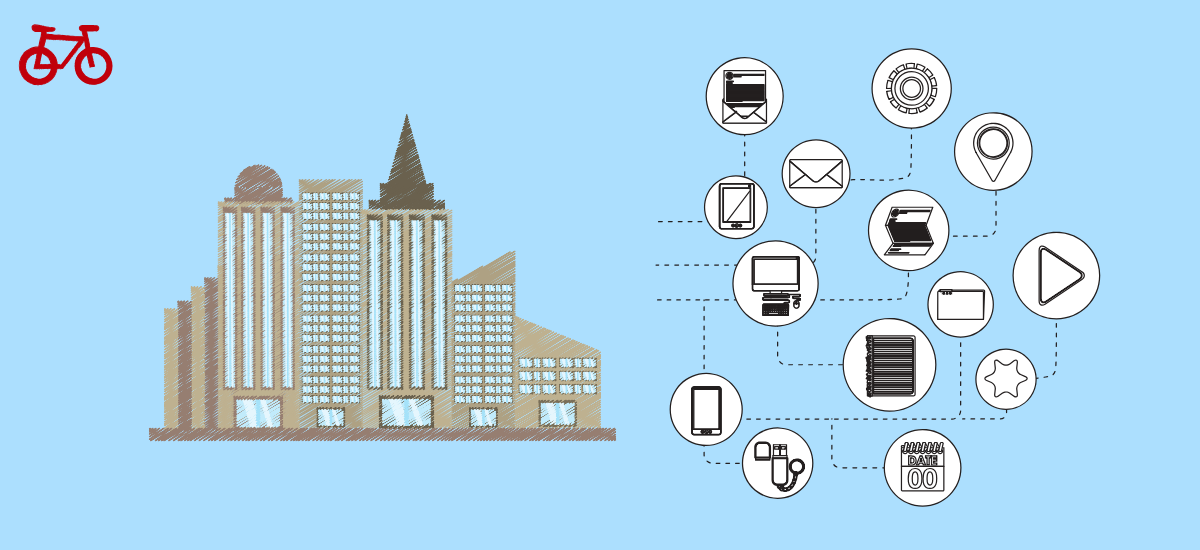 Thus, digital marketing is changing the landscape of B2B marketing. B2B brands are rapidly adopting digital marketing strategies. And, they are seeing increased ROI and marketing is able to control more of the buyer's journey.
So, B2B is becoming a more dominant force. And, it continues to contribute more to the overall business.
Success with Digital Marketing
Creating a successful digital marketing strategy begins with executing the primary components.
It begins with having a website. Generating quality traffic to that website. Then, converting that traffic into customers.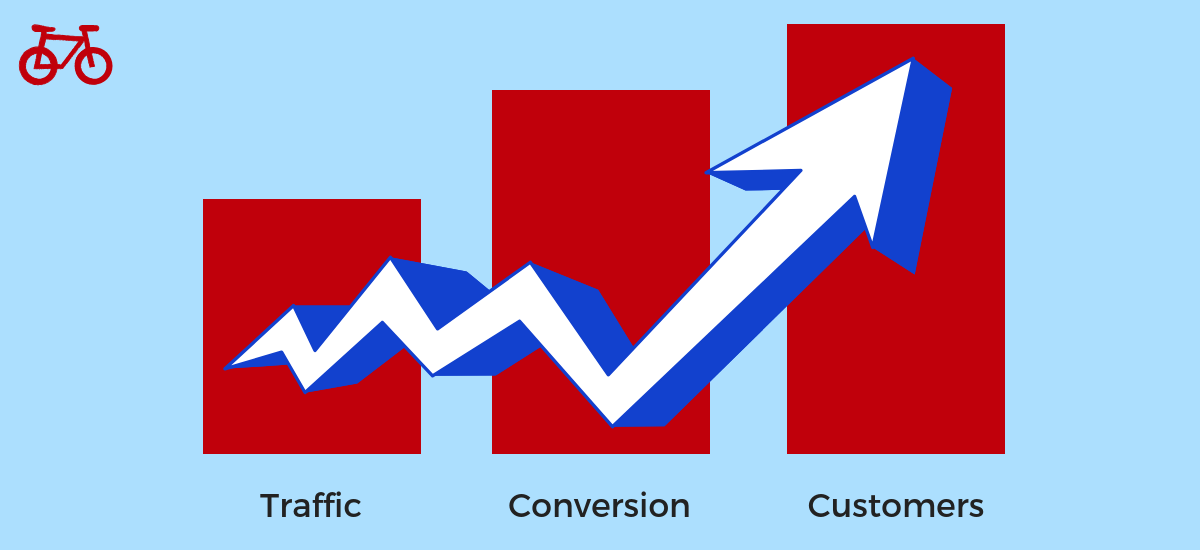 In order to execute the components in each stage, having a sound marketing mix and marketing strategy are crucial. Then, we lay the tactics and tools out to execute the marketing mix.
Once all of this is said and done, to verify our digital marketing efforts are successful, we use metrics to measure our ROI. We define the metrics that are important to our business, then measure and report them regularly.
Digital marketing is an important channel. As more people spend more time on digital mediums, it becomes increasingly important. Planning and effectively executing is about having a sound understanding of the marketing mix, building a great marketing strategy, then understanding how it fits and using it as one of our marketing tools.